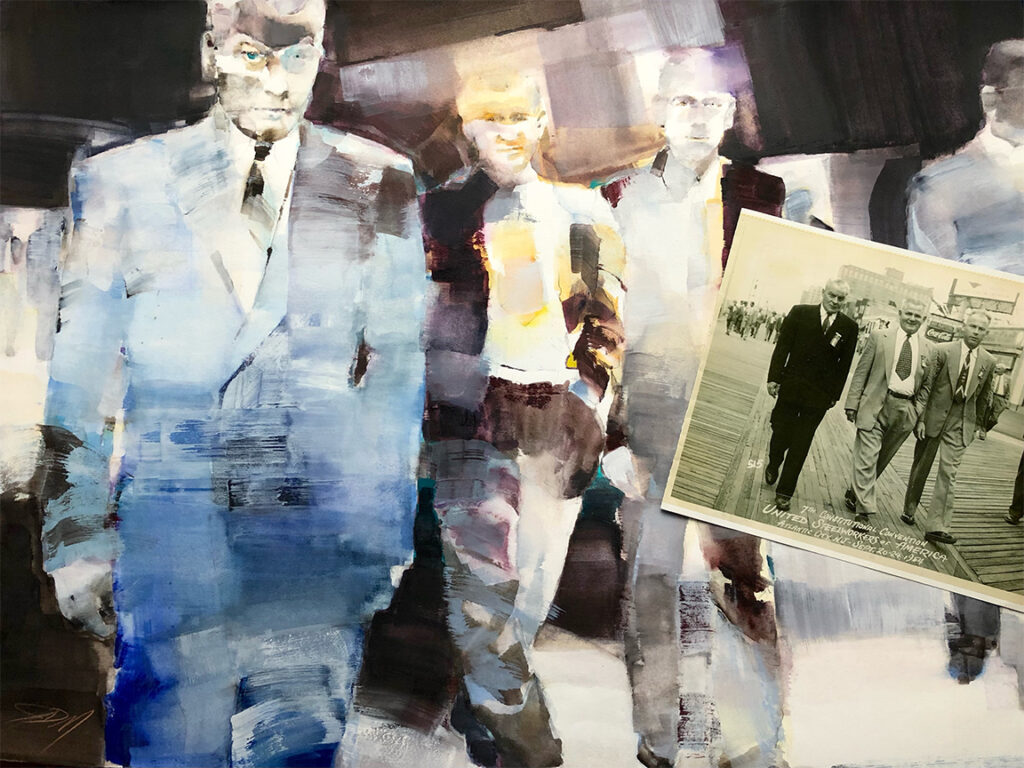 "7th Convention", Rivers of Steel, Pump House,
May 6 – June 17, 2023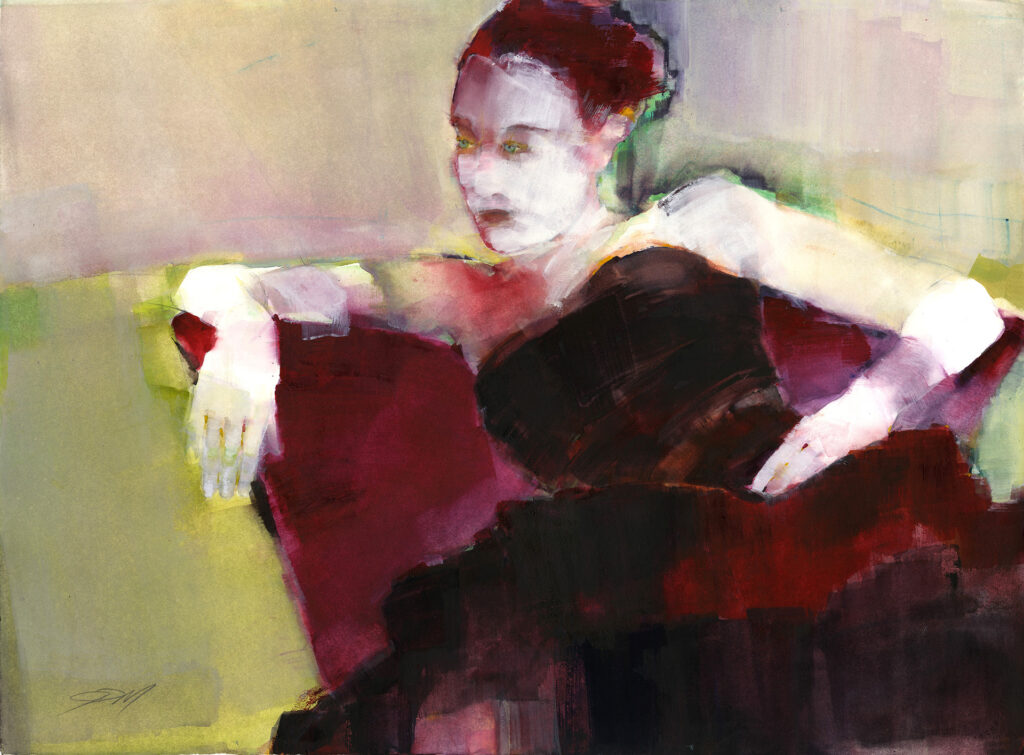 "Paper Doll", AWS Traveling Exhibition thru April 1, 2023
Industrial Exhibition
Rivers of Steel, Pump House
880 E Waterfront Dr, Munhall,
PA
May 6 – June 17, 2023
Opening reception Saturday,
May 6, 2023, 2-5p
Situated just across the Monongahela River from the Carrie Blast Furnaces, the Historic Pump House was once part of the U.S. Steel Homestead Steel Works. This raw industrial space is ideal for exhibiting Jeannie's original artworks depicting people in industry.
American Watercolor Society 155th Annual International Exhibition
Paper Doll
Awarded the Hardie Gramatky Memorial Award
On view with traveling exhibition:
5/9/22 – 6/30/22 Michelson Museum of Art, Marshall TX
7/27/22 – 10/3/22 Pryor Art Gallery, Columbia TN
11/1/22 – 1/4/23 Mooresville Arts, Mooresville NC
1/23/23 – 3/23/23 Fallbrook Art Center, Fallbrook CA
4/1/23 – 4/29/23 Middletown Arts Center, Middletown NJ
My original art is showcased throughout my studio and available for purchase by appointment.
You may request a behind-the-scenes tour of paintings in progress, their stories, and the inter-workings of the studio.
Publications and Interviews
American Art Collector, Portrait Artists Directory, 2021
Artensity interview, March 2019, Artensity Interview
SDVoyager, San Diego Online Magazine, February 2019,
Jeannie's Article, Thought-Provokers: Pacific, Mission & Ocean Beach
International Artist Magazine, June/July 2018, Issue
Watercolor Artist Magazine, June 2016
American Artist Watercolor, Spring 2012
The Artist's Magazine, May 2012
Watercolor Artist Magazine, February 2012
American Art Collector, December 2011
American Artist Watercolor, Summer 2011
l'Art de l'Aquarelle, No 9, 2011
Watercolor Artist Magazine, August 2010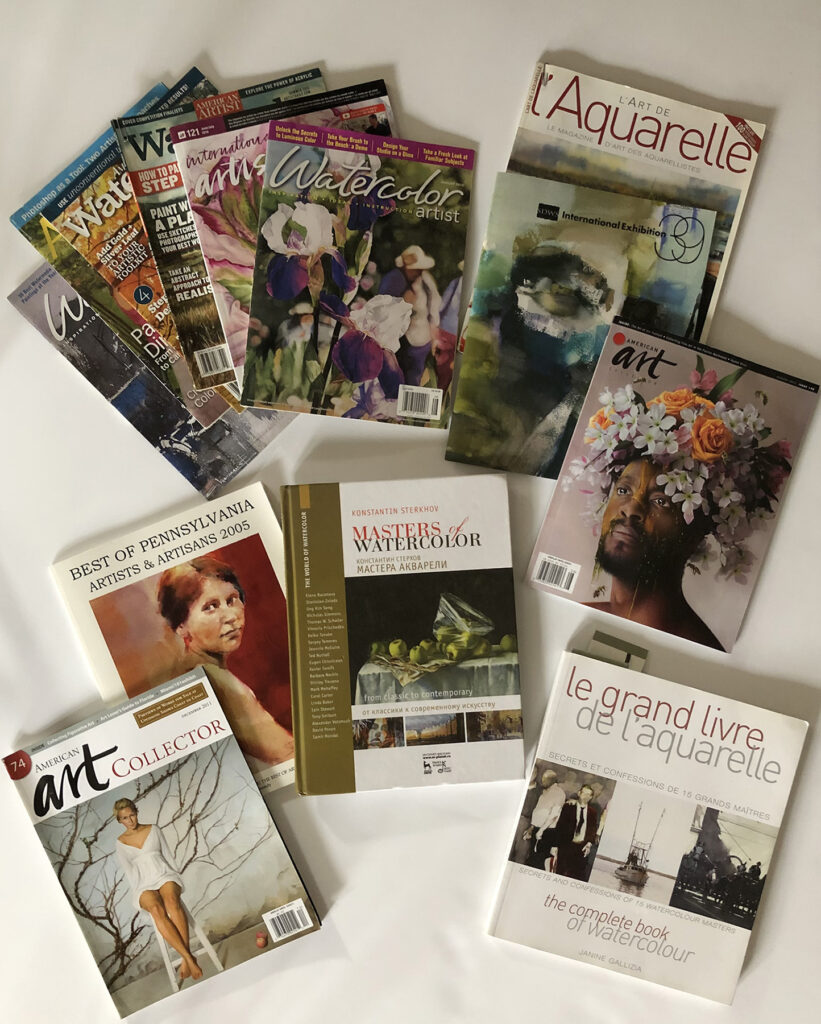 2023 
Industrial Exhibition, Rivers of Steel, Pump House. Collection of Jeannie's original artworks depicting people in industry.
2022 
American Watercolor Society, 155th International 2022, Salmagundi Club, NYC, NY "Paper Doll", Hardie Gramatky Memorial Award
2021
Pittsburgh Watercolor Society, 76th Anniversary 2021, Greensburg, PA "Troupes", Award
2020
Fallbrook Art Center, American Signature 2020, Fallbrook, CA, "Vanish"
2019
San Diego Watercolor Society, 2019, Juror painting, "Resolve"
Salon Dessin & Peinture a l'eau, Drawings & Paintings under glass, Grand Palais, Paris, France, 2019, "7th Convention"
2018
Reims France, 2018, Aquarelle Reims Event, Five international artists, my collection 7 works
Fallbrook Art Center, American Signature 2018, Fallbrook, CA "Paper Doll"
Pittsburgh Watercolor Society, Aqueous 2018, Spinning Plate Gallery, Pittsburgh, PA, "Teased," Award
2017
Pittsburgh Watercolor Society, Aqueous 2017, Spinning Plate Gallery, Pittsburgh, PA, "Studio One," Award
National Watercolor Society International 2017, San Pedro, CA "Followed"
Jordan Schnitzer Museum of Art, Solo Exhibition of 12 works 2017, Eugene, OR
2016
Fallbrook Art Center, 7th Signature American Watermedia 2016, "Studio One," Award
American Watercolor Society, 149th International 2016, Salmagundi Club, NYC, NY "Fine Line"
2015
Aosta Regional Association, Invitational of select international artists, The Watercolor Today 2015, Basilica di San Lorenzo, Aosta, Italy
Pittsburgh Watercolor Society, Aqueous 2015, Spinning Plate Gallery, Pittsburgh, PA "Fine Line" Best of Show
National Watercolor Society, 95th International 2015, San Pedro, CA, "Rust"
UpStage, Select self-curated group 2015, Mansions on Fifth, Pittsburgh, PA
NWWS Annual Exhibition 2015, Convention Center, Seattle, WA, "East Bound," Award
American Watercolor Society, 148th International 2015, Salmagundi Club, NYC, NY, "7th Constitutional"
Fallbrook Art Center, 6th Signature American Watermedia 2015, Fallbrook, CA, "Breeze," Award
Pittsburgh Watercolor Society, Waterworks 2015, Spinning Plate Gallery, Pittsburgh, PA, "Navigating," 3rd Place Award
2014
Pittsburgh Watercolor Society, Waterworks 2014, Spinning Plate Gallery, Pittsburgh, PA "Proud"
2013
Centre D'Art Sebastien, Invitational of select international artists, 3rd Annual 2013, Saint Cyr Sur Mer, France,
Pittsburgh Watercolor Society, 67th Aqueous 3013, Third Street Gallery, Carnegie, PA "Heavy Load" Third Place Award
NWWS, Annual Exhibition 2013, Mercer View Gallery, Mercer Island, WA, "Lexington 6" 2nd Place Award
Fallbrook Art Center, 4th Signature American Watermedia 2013, Fallbrook, CA, " Iron" Award
2012
Shanghai Zhujiajiao International Watercolor Biennial 2012, Shanghai, China, "Plum Frost"
Pittsburgh Watercolor Society, 66th Aqueous 2012, Third Street Gallery, Carnegie, PA "Audition"
Baltimore Watercolor Society, Mid Atlantic 2012, D.C., "Cerulean" Award
Pittsburgh Watercolor Society, Waterworks 2012, Fein Gallery, Pittsburgh, PA, "Sand Sculpture" Best of Show
Beauty & the Beast, Figures & Faces of Pittsburgh's Industrial Landscape, Select self-curated group 2012, Mansions on Fifth, Pgh, PA
American Watercolor Society 145th International 2012, Salmagundi Club, NYC, NY, "Milan Train"
2011
Art Center Butler 2011, Butler, PA
Pittsburgh Watercolor Society, 65th Aqueous 2011, Gallery Sim, Pittsburgh, PA, "Sapphire" Best of Show
Pittsburgh Three River Art Festival, Juried Exhibition, Pittsburgh, PA " The Shop, Green Gloves"
Pittsburgh Watercolor Society, Waterworks 2011, Fein Gallery, Pittsburgh, PA, "Plum Frost" Best of Show
Wine & Art Solo Event, Nello Olivo Wine Cellar, Placerville, CA
Baltimore Watercolor Society, Mid-Atlantic Regional 2011, North Bethesda, MD, " Mystery" Award
American Watercolor Society 144th International 2011, Salmagundi Club, NYC, NY, "Kenneth" Gold Medal of Honor
Beauty.Strength.Reflection, Select self-curated group 2011, Shaw Galleries, Pittsburgh, PA