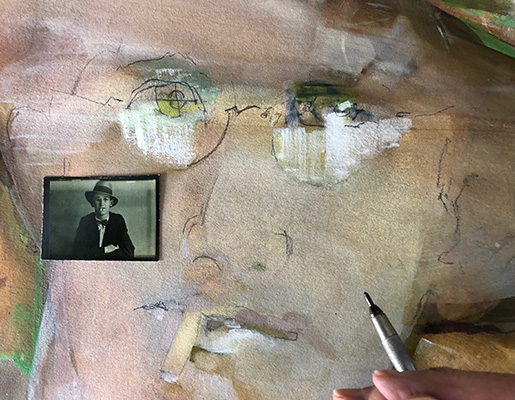 Creating paintings of people as works of art versus formal portraits
Jeannie hopes to encourage and challenge artists to communicate a story or feeling in their paintings and to create strong figurative works of art. Through demonstrations, candid conversation, and individual time, Jeannie shares her painting style and thoughts as well as the versatility of watercolor.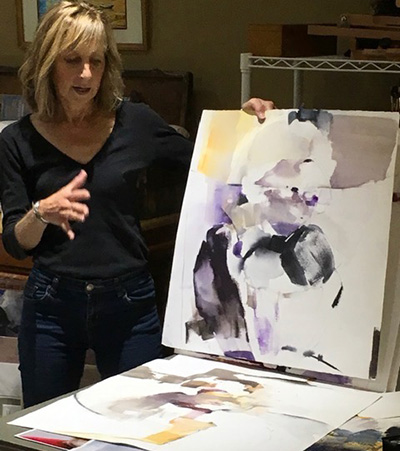 Jeannie's Studio
Pittsburgh, PA
By Appointment
One-on-one Mentoring In-
Person or via Zoom.
2024
Franciscan Life Process Center
Lowell, MI
April 11-13, 2024
Figurative Design
Contact me for scheduling a date, fees, and additional information.
Instructor: Jeannie McGuire
Workshop: Figurative Design
Medium: Watercolor or your choice per venue
Level: Advanced beginner, intermediate, advanced
Age: Adults
Dates & Registration Location: Per venue
Figurative Design Workshop
An intuitive approach to character and compositional development of faces and figures in conjunction with their backgrounds. These 3-5 day workshops for larger groups of 20 are influenced by my current work and will build throughout the week with hands on projects, a lot of spontaneous discussion, design suggestions and painting time.
Workshop instruction focuses on creating paintings of people as works of art versus formal portraits and developing backgrounds that encourage a story, feeling, or purpose. Allow your unique style to emerge from a different perspective.
Students explore natural design in reference materials, size, shape and cropping impact, pigment maintenance, intentional and spontaneous marks, use of titanium white, and the freedom to change one's mind.
Each day begins with a demo pertaining to the day's project such as "explore eyes and faces in an unconventional way," "focus on a single figure with an obscure background," and "intertwine a group of people with their background elements."
Attendees receive plenty of personal attention, individual critiques, and painting time.
Small Mentoring Intensive Workshop
Character and compositional development within several series. A semi-private experience for a small group of 4-10 artists. The class partakes in individual hands-on design, story development and explores their own path. The small class allows extensive individual mentoring and painting time.
Customized hourly sessions are available by appointment in my studio, either in-person or via zoom. These personalized one-on-one sessions are tailored to walk you through your own paintings as we discuss in-depth story, design and pigment application options. With an abundance of paintings at hand in my studio I will share examples and demos.
Student Material List:
Students are to bring their own personal photography or other acquired photos and snapshots to reference. Include posed and unposed figure(s) and face(s). Look for character, emotion, gestures, single figures and groupings, interesting poses and background elements.
The following supplies are considered essential; a few are noted as very helpful.
Artist Note:
The majority of my pigments are currently Daniel Smith professional watercolor pigments (no acrylic or gouache). I supplement my standard palette with fun colors and neutrals. The following pigments are in my workshop palette. These pigments are not a purchasing request for students so please use pigments that you like.
I've found that as an instructor and a mentor my main focus is to inspire working artists to be better artists by encouraging them to paint from the perspective of a story and a persona.